Sail Away Catamarans Yacht Sales
Liberty Yacht Club & Marina 64 Old South River Road
Edgewater, Maryland, US, 21037
Tel:410-212-9699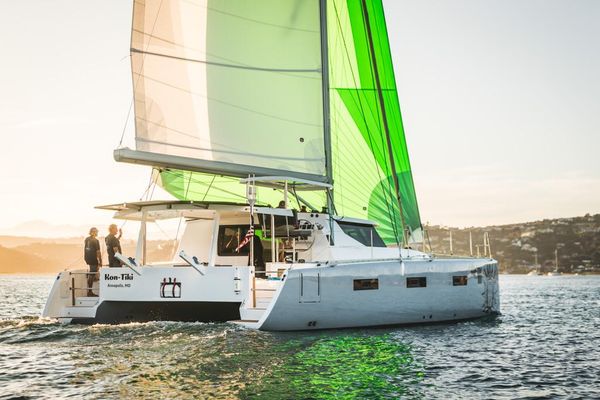 2021 Vision 444
South Africa
Builder/Manufacturer
VISION YACHTS
VISION 444
The Vision 444 delivers assertive results in all categories – Performance, Safety, Styling and Ergonomics – making it one of the surest, most intelligent choices in a modern catamarans and one that offers the highest levels of owner satisfaction
Vision 444 Electrical System - Oceanvolt Electric Motors are an option.
~24V DC House battery bank Lithium ion (LiFePo4) - (620Ah - 16kWh) consists of 4x single units to create the pack that fits under the saloon seats.
~Diesel propulsion engines provide house bank charge input while running - 24V 75A each (150A 24VDC combined) via dedicated high duty cycle alternators. This charge input ,with engines running, provide AC load capability without running the house bank flat(standard setup primary charge input)
Each engine uses a 12V starter system which also powers the blowers for heat removal from engine bays.
~Shorepower input (120V 60Hz / 240V 50Hz) for worldwide plugin provides house bank charge via Victron isolation transformer using Victron multiplus inverter/chargers.
~PV panels charge input is an optional extra ranging from 340W (1 panel) to 1360W (4 panels) up to a maximum of 2720W (8 panels).
~24V DC house battery bank powers the boat in its entirety expect for the AC loads(Calorifiers/plug sockets) and including any optional extra AC loads.(ice maker/washer-dryer/watermaker/aircons/induction stove top).
~Optional extra 24VDC 10kW Fischer panda silent genset can also provide an additional charge input.
CALL FOR AVAILABILITY - DEMO SAILS - TRY BEFORE YOU BUY CHARTERS
$689,500 Base price - call for factory options
Specifications
Holding Tank Mat.
Stainless Steel
Displacement Type
Dry Load
Engine 1 Specifications
Model:
N 4.38 SD 60 Sail Drive
Propeller Type:
3 Blade, Bronze, Feathering
Engine 2 Specifications
Model:
N 4.38 SD 60 Sail Drive
Propeller Type:
3 Blade, Bronze, Feathering
Engine Location:
Starboard
Vision 444 Base Price $689,500 Standard Inventory
3 Cabin Version
Hull, Deck, Bulkheads and Furniture

All Components are Vacuum Resin Infused
Crystic Vinyl Ester Resins Used Throughout
Foam Core Infused
Crystic Spray Gelcoats
Hull Sprayed
Vacuumed Foam Sandwich Furniture Components
Furniture is Structurally Bonded to Hull
All Lockers Painted Out with Grey Polyester Topcoats

Steering System

Composite Rudders
60.3mm Stainless Steel Rudder Shafts, Solid Section Through Hull
Ertalon Rudder Bushes
L & S Hydraulic Steering
1 X Stainless Steel Wheel with Edson Locking Hub
Emergency Steering
Ackermann Angle in Steering Geometry Ensures Laminar Flow at all Steering Angles

Propulsion

2 X 38HP Nanni Diesels with 24V 75amp house bank charging alternator and 12V 120amp Alternator starter battery charging
2 X Nanni Diesel Primers Built in
2 X Nanni Built-in Engine Oil Extractor Pumps
2 X ZF Sail Drives with Anodes
2 X Feathering 3 blade Propellers
2 X Engine Room Extraction Fans
20mm Sound Proofing Sheets with Gelcoat Covers
2 X Single Diesel Filter / Water Separator
2 X Engine Room Lights
2 X Bilge Pumps
2 X Remote Fire Extinguisher System
Easy Access Under Bunks with Support Arm with Work Seat
Tool Kit in Each Engine Room
Level Floor in Engine Room

Fuel

2 X Composite Fuel Tanks
2 X Fuel Line Gravity Feed
2 X Inspection Hatches
2 X Deck Filler Direct onto Tanks
2 X Manual Dip Stick System
2 X Tank Drains / Sumps
2 X Wema Tank Senders

Water

2 X Composite Water Tanks
2 X Water Maker Feed Ports
2 X Deck Fillers
2 X Inspection Hatches
2 X Twin V-Flow Jabsco Water Pumps
2 X Wema Tank Senders
2 X 30L Quick Water Heaters 220V or 110V with Engines Heat Exchanger Connection

Glazing

Toughened Glass with 2 X Hatches in Centre Windows
Single Leaf sliding Cockpit window
Single Leaf Aluminum Sliding Saloon Door
10 X Perspex Hull Windows with 8 Flush Mount Port Lights

Winches
4 X 46ST Electric Winches

2 X Winch Handles
2 X Winch Handle Pockets

Main Sheet System

Main Sheet Bridle System
2 -1 Harken Main Sheet Blocks
3 X Spinlock Deck Organizers
Spinlock XTS Clutches

Self-Tacking System

Harken Jib Traveler System
3m Harken Traveler Track
2 X Harken Car Stops
Harken Block and Car
Spinlock Deck Organizers
Spinlock XTS Clutches

Spinnaker System

2 X Bow Pad Eyes for Blocks
1 X Retractable Bow Sprit with Dynema Sea Stays

Mast, Boom, Fore Beam

Complete Sailing Rig Package
Mast
Boom
Antal Batten Car Slider System
Standing Rigging
Running Rigging
Navigation Lights
Steaming Lights
Tri-Colour Mast Light
Deck Light
Courtesy Flag Halyards
VHF Antenna
Windex
Radar Bracket
Cross Beam
Compression Post (Catwalk)

Ulman Sails

Endurance Cross Cut Dacron
Fully Battened Main Sail
Roller Furler Jib with UV Strip
Stack Pack
Sail Bags
2 X Forward Trampoline
Deck Gear

8 X Horn Cleats
10 X Stanchions with 5mm Guard Wire
2 X Midship Gates
2 X Composite Davits
2 X SZ 54 Escape Hatches
2 X SZ 70 Hatches
2 X SZ 50 Hatches
2 X SZ 30 Hatches
4 X Fore Deck Lazarette Hatches
Light Grey Embossed EVA Decking on all Flat Deck Areas
Teak brushed EVA decking in cockpit and sugar scoops
7 X Composite Cockpit Storage Hatches
Electronics – GARMIN

8412 GPS Chart plotter/Radar at Helm
48NM GMR 18" HD Radar
GHP Reactor, Mechanical Retrofit Core Pack
Garmin Class B Drive Unit
G Wind, GND 10, WSI Box, GMI 20, DST800 Bundle
GMI 20
VHF 315i AIS 800 Black – 4" Screen-DCS-AIS with Remote
Electrical

Blue Nova Lithium Ion 625Amp/h Batteries
2 X 12V 75Amp Starter Batteries
2 X 24V 75amp Charging Alternators factory fitted by Nanni
Marine Lights
LED Lighting
AC/DC Circuit Breakers
DC Switching Panel
Isolator Switches
Dual Voltage Shore Power System
Victron Multiplus
Victron Isolation Transformer
Tin PVC Wire with Proper Termination and Coding
Courtesy Lights on Transom Steps
Courtesy Lights Down Interior Stairs
Saloon Red Light
LED Cabin Lights
LED Saloon Lights
LED Mood Lighting
2 X 12V Plug Points (USB)
7 X 220V or 110V Plug Points with USB Charging
Dimmer Light Controls in Saloon and Cabins
4 X Smoke Detectors

Gas

BEP Gas Monitoring Systems
Gas Solenoids
Gas Detectors
Gas Pressure Gauge
2 X 9kg Composite Gas Cylinder
Manual Shut off under Stove

Plumbing

3 X Techma Comfort Electric Toilets
3 X Built-in Toilet Macerator Pumps
2 X Jabsco Vflow Water Pumps
1 X Jabsco Saltwater Deck wash pump
3 X Jabsco Gulper Shower Waste Pumps
2 X Black Water Tanks
6 X Rule 1100L/PHR Bilge pumps

Interior

Modern Contemporary Design
Woka Waxed Oil Finishes on all Solid and Veneer Wood Surfaces
2K Sprayed Gloss Units and on White Doors
Upholstered Headboards with Reading Lights
Lightweight Vinyl Cladding on Ceiling and Vertical Areas with Fabric Textures and Colors to Suit
Slightly Textured Painted Surfaces on Walls
Various Options for Sunbrella Upholstery Material and Leather
Ocean Air Screens on Hatches
Modern Synthetic Hard-Wearing Flooring

Port and Starboard Mid Ship System Lockers

All Pumps and Through Hull Skin Fittings Located in this Locker
Aircon Shelf
Blackwater Tank
Manual Bilge Pump
Automatic Bilge Pump
Water Strainers
Tank Breathers
Deck Fillers
Non-Return Valves
Strum Boxes
Manifolds

Cabin Forward Port Side

1 X Forward Cabin
Queen Size Island Bed
1 X Hanging Cupboard
Clothes Shelf Cupboards
1 X En-suite Head White Finish
1 X Electric Toilet
1 X Basin with Mixer Faucet
1 X Shower Head with Hot/Cold Lever Control
1 X Goiot Escape Hatch in Head
1 X Glass Shower Door
Upholstered Headboard
2 X Headboard Reading Lights
2 X Ceiling LED Down Lighters
1 X Air Conditioner Outlet with Louvered Vent

Cabin Aft Port Side

1 x Aft Cabin
Queen Size Bed
1 X Upholstered Headboard
2 X Headboard Reading Lights
1 X Hanging Cupboard
2 X Clothes Cupboards
1 X Aft-facing Port Light
2 X Ceiling LED Down Lighters
1 X Air Conditioner Outlet with Louvered Vent
1 X En-suite Head White Gloss Finish
1 X Electric Toilet
1 X Basin with Faucet Mixer
1 X Showerhead with Hot/ Cold Lever Control
1 X Showerhead
Owners Cabin Starboard

Queen Size Bed
Upholstered Headboard
2 X Headboard Reading Lights
1 X Air Conditioner Outlet with Louvered Vent
Ceiling Panels
2 X Ceiling LED Down Lighters
Aft-facing Port Light
Midships Cupboards
Privacy Door Between Cabin and Saloon
Extra Grab Handles Where Needed
En-suite Head White Gloss Finish
1 X Toilet
1 X Wash basin with Faucet
1 X Showerhead with Hot/Cold Control Lever
1 X Shower Seat
1 X Glass Shower Door
Starboard Forward Cabin

Workbench with Bench Vice
Heavy Duty Rubber Worktop
8 X Storage Lockers
Heavy Duty Rubber Flooring
1 X 110/220V AC Socket with USB
1 X Goiot Escape Hatch

Galley

1 X Glem 4 Plate Gas Hob
1 X Glem Gas Oven
1 X 160L Frigoboat Fridge water cooled
1 X 110L Frigoboat Double Draw Freezer water cooled
1 X Double composite Sink
1 X Hot/Cold Freshwater Faucet
1 X Saltwater Faucet
2 X 220V or 110V Double Plug Socket
Overhead Locker against Aft Bulkhead
3 X Galley Counter with Stainless Steel Railings
Sliding Galley to Cockpit Window
Microwave Oven

Saloon

Saloon seating in Leather
Batteries under Saloon Seating
Wood Finish Saloon Table on Drop-down Pedestals
Forward Facing Navigation Systems Station
10 X LED Down Lights
2 X Air Conditioner Outlets with Louvered Vent

Helm Station

Bulkhead Helm
Binnacle Compass
2 X Rope Bins
2 X Person Helm Chair
Helm Chair Cushions
Composite Helm Shade Top with Stainless Legs

Cockpit

2 X Side Access Doors (Unique to the Vision 444)
4 X Sliding Safety Bars in Sugar Scoops with Screw Locking
2 x transom wash boards
1 x fish filleting board plus BBQ stand
Teak table cover
Full Cover Hard Top Bimini
Sliding Overhead Hatch to Port Side Cut out
Hose Pipe and Shore Power Storage Locker
Weber Aluminum Gas BBQ
Cockpit Cooler box Built into Seat
Hot/Cold Transom Shower
Saltwater Deck Wash with 25m Coil Hose
1 X Telescopic Transom Ladder
1 X Transom Ladder Removable Swimming Pool Style
Anchoring, Mooring and Tender

Quick 1500W Windlass with toggle switch at helm and two-foot switches
33kg Rocna Anchor
Anchor Bridle
Rubber Protection Matt in Anchor Locker
Copper coat anti foul
Prop speed on sail drives and props
100m Chain to Suit Windlass
4 X Fenders
4 X 6m Dock Lines Spliced
4 X 10m Dock lines Spliced
2 X Davits

Safety CAT A Equipment

5 X Fire Extinguishers
Vinyl lettering and boat name
1 x 8-man Viking life raft
1 x Eprib
2 X Manual Hand Operated Bilge Pumps
Jon-Buoy Self-Inflating System
4 x standard Life Jackets
4 x Auto inflate PFD's with built in harness
Flashlight
Rigging Cutting Tool
Lifelines
Cockpit Harness Attachment Points
1 X Orange Smoke Flare
4 X Red Handheld Flare
4 X Red Rocket Flare
Radar Reflector
Watertight Capsize Bottle
Space Blankets
First Aid Kit
Spares
Tools
Orange ID Sheet
Signaling Mirror
Handheld Compass
Sound Signaling Device
Code "N" & "C" Flags
2 X Black Balls
Soft Wooden Bungs
Emergency Nav Lights

Launching, Commissioning, Hand Over

Launching at Knysna Yacht Club Slipway
Stepping of Mast by Sparcraft Masts
Commissioning of Sails by Ulman Sails
Commissioning of all Components
Sea Trials and Training in and around Knysna
Hand Over to Client in Knysna
Factory options - Vision 444
Optional Extras:
200L/per hr Hydro Electric Marine
Windlass Remote Control from Helm
Induction Stove Top Upgrade
Screecher with Continuous Furler
Asymmetric Spinnaker with Snuffer
Electronic Repeaters at Internal Nav Station
2 X Transom Underwater Lighting LED Lights Bluefin Removable
1 X 350W Solar Panel with Victron Regulator
1 X Frigoboat Ice Maker
1 X 10KVA Fischer Panda 24V DC Genset
2 X 16000BTU Aircons
Washing Machine / Tumble Drier
8412 12" Garmin Chart Plotter / Radar Touch Screen Upgrade
Ocean Volt Electric Propulsion SDI5 servo prop System
Vision 444 Unique Features
Complete boat built using Vinylester Resin
Complete boat and all its components resin infused
All furniture is structural
All furniture foam sandwich construction
Port and starboard serves lockers
Centralized area for all through hull fittings port and starboard
Spacious engine room with easy access
Work seat in engine room with dedicated tools
Nanni diesels easy to work on all serviceable components are front of motor
18 water tight under floor compartments in each hull
Foam stems
Collision bulkhead
Escape hatches double up as cooling system for hulls
All timber is low maintenance using Woka oiling system
24v DC electrical system
Lithium Ion batteries standard
Forward facing navigation station
Galley window open 100%
Tecma electric toilets standard
Atkinson's theory calibrated rudder system-no stalling on tacks or general turning
Unique in gunwale access hatches
100% feedback steering system
Griptex non skid
Pull and screw sugar scoop safety bars
Integrated davits
Integrated Bimini struts
Ergonomic design
Removable cockpit table
Oversized cockpit lockers
Cockpit to saloon no sill
Extra wide in cabin doors
Dedicated work shop starboard fore peak
Trampoline to deck nearly level
Clean flat decks
Steps on mast
Flat windows
Balanced rig for easy sailing
Self-tacking Jib
Purpose made screecher for Blue water cruising
Gori propellers standard
Water cooled fridges and freezers
Sliding hatches in Bimini for stand up viewing
Built by a sailor for Sailors
Disclaimer
The Company offers the details of this vessel in good faith but cannot guarantee or warrant the accuracy of this information nor warrant the condition of the vessel. A buyer should instruct his agents, or his surveyors, to investigate such details as the buyer desires validated. This vessel is offered subject to prior sale, price change, or withdrawal without notice.
Additional Contact Information
We are 100% Catamarans & Multihulls - Everyday is a Boat show at Sail Away!
To schedule appointments or a demo sail contact:
Tommy Smith - tommy@sailawaycatamarans.com
(410) 212-9699 VISION YACHTS USA